Sasha Hutchings, Sean Grandillo and National Tour Company of "OKLAHOMA!" from Rodgers & Hammerstein! (Matthew Murphy and Evan Zimmerman for MurphyMade)

To cut to the chase: the touring production of "Oklahoma!" which arrived Wednesday night on the Broadway stage at Chicago's CIBC Theater is "a parody of a parody of a sham." And, during the deeply painful 2 hours and 45 minutes it took for this desecration of a glorious classic of American musical theater to happen, all I could think of was that its genius creators Richard Rodgers and Oscar Hammerstein, Jr. weren't just rolling in their graves, but banging their fists on their headstones as they wondered how those who now hold the rights to their brilliant initial collaboration, and its many glorious and groundbreaking elements, allowed this to happen. (In 2009, the rights were sold to a Dutch-based pension fund. Disastrous.)
Billed as the "modernization" of New York director Daniel Fish (and premiered before the 75th anniversary of the 1943 musical), this production could be considered a grotesque parody of the original if it were to be made as, for example , a scene from "Saturday Night Live." But in its current form, it's just a distorted and destructive version of its source material. It's both a sad introduction for young audiences who've never seen it in its true form, and a harrowing experience for anyone who's seen it multiple times over the years. And it's not just about nostalgia; it's about distortion.
company%20of%20the%20National%20Tour%20of%20Rodgers%20%26%20Hammerstein%27s%20OKLAHOMA%21%20-%20Matthew%20Murphy%20and%20Evan%20Zimmerman%20for%20MurphyMade%20%282%29.jpg?itok=B2ExfioA" title="The national tour company of "OKLAHOMA!" de Rodgers & Hammerstein! (Matthew Murphy et Evan Zimmerman pour MurphyMade)" width="1920″/>The nationwide tour company of "OKLAHOMA!" from Rodgers & Hammerstein! (Matthew Murphy and Evan Zimmerman for MurphyMade)

"Oklahoma!" opened on Broadway just as World War II was raging. And while it certainly did not sugarcoat the American Dream (circa 1906) as it dealt with homesteader life, violence, injustice, sexuality and the nature of deep loneliness, it exalted also the essential spirit of the country. Watching this twisted version of the show erases all of that in the heaviest way.
The feeling that something is wrong is palpable from the moment you lay eyes on Laura Jellinek's set, with its distant, sketchy backdrop of farm country, its awkward stage full of bare wooden tables and chairs. with a metallic "fringe" hanging above, and its walls adorned with rows of guns that suggest you're at a shooting range. The seven-piece orchestra sits against the back wall. And while the idea is to suggest that they are local musicians in the story, the lush sound of a full orchestra that can do Rodgers' music justice is sadly absent. Additionally, the "updated" orchestral and vocal arrangements also undermine Rodgers. And the overall sound of the show is also uneven, with sometimes very muddled lyrics and dialogue.
Hennessy Winkler, Sis and National Tour Company of "OKLAHOMA!" from Rodgers & Hammerstein! (Matthew Murphy and Evan Zimmerman for MurphyMade)

As for the storytelling (which is totally out of step with the essential historical setting of the series), the central theme is the mistrust of strong-minded farmer Laurey Williams (Sasha Hutchings) to commit to marrying the cowboy Curly McLain (Sean Grandillo) and his disturbing pursuit by Jud Fry (Christopher Bannow), the deeply lonely and isolated farmhand who silently adores him.
For comic relief (which is wildly and needlessly overdone here) there's Teen Annie (Sis), the sexual and readily available girl pursued by cowboy Will Parker (Hennessy Winkler) and Ali Hakim (expertly played by stunt double Hunter Hoffman), the skilled, always-on-the-go Persian peddler in comic pursuit of sex but on the run by engagement.
While nearly every aspect of the characterization has been bluntly directed, several actors manage to hold their own. Hutchings, a tall beauty who moves with skill, is compelling in her suggestion of the mixed feelings she has for the two very different men – Curly and Jud – who pursue her. And Bannow – cast against tradition here as a light-hearted, sensitive man in a depiction reminiscent of one of the many recently mentally ill young men who resort to gun violence – is haunting.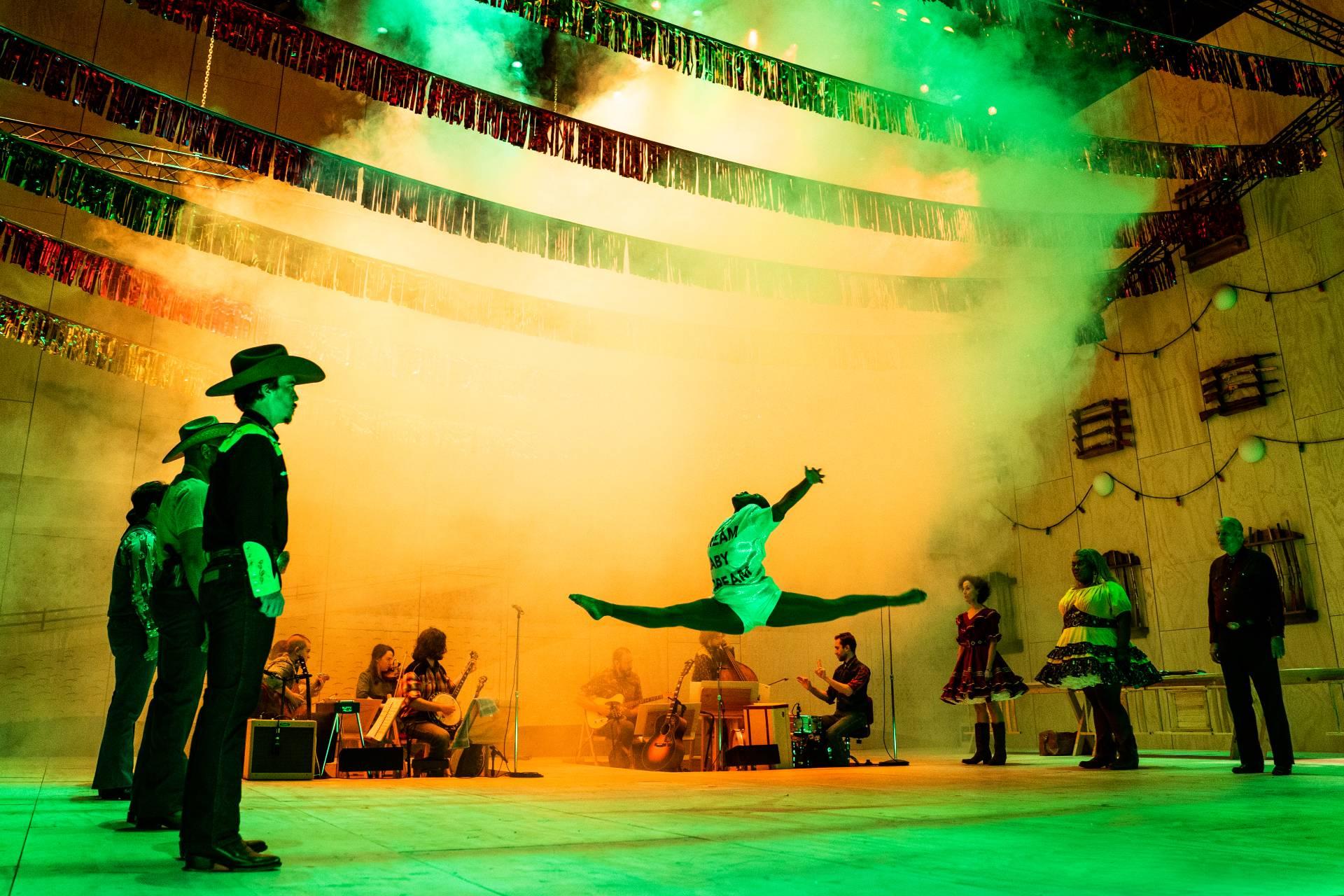 Gabrielle Hamilton and the national tour company of "OKLAHOMA!" from Rodgers & Hammerstein! (Matthew Murphy and Evan Zimmerman for MurphyMade)

And then there is the question of the choreography of the show, originally the wonderfully dramatic and innovative work of Agnès de Mille. Something is clearly missing early on with the far less than sensational "Kansas City" dance routine that makes Will Parker's character a real gambler. And de Mille's long, passionate dreamlike ballet sequence that opens the second act intended to capture Laurey's inner turmoil is reduced to a tedious orgasmic riff totally disconnected from the character. It was designed by John Heginbotham and is performed by Gabrielle Hamilton wearing a T-shirt emblazoned with the words "Dream Baby Dream".
Enough said. But if you happen to already have tickets to the show and you're in the mood, walking out of the theater you might find yourself wanting to sing, "Oh what a horrible night. Oh what an amazing sight.
"Oklahoma" runs through January 23 at the CIBC Theater, 18 W. Monroe St. Visit broadwayinchicago.com.
Follow Hedy Weiss on Twitter: @HedyWeissReview
---